Vancouver landscape design is a massive industry, giving people access to fresh, new designs they can use to transform their property. But how much does it cost for landscape design in Vancouver?
It's definitely one of the first questions we get asked as a premium landscape construction company. Particularly for those who are looking to get some hefty work done – they want to know what to expect in terms of budget.
Once you've got an idea of how much it costs for Vancouver landscape design, then you can factor that into your existing financial plan and limitations (if any). It's also a helpful indicator as to how much work you can afford to have done on your property, giving you plenty of time to change the design to suit your price range.
When answering this question, it's important to look at it from a generalized perspective. In other words, the cost of landscaping designs greatly varies depending on the size of the project. In general, a landscape design in Vancouver starts at around $1,500. But again, it depends on the size and type of project.
This gives you an average insight into what you can expect to pay for a design. To find out exactly how much your dream project will cost, it's important to speak to professional landscape designers that know how to customize designs to your particular needs.
Let's take a closer look at landscape design costs, how it all works, and where you can find the best landscape designers in Vancouver.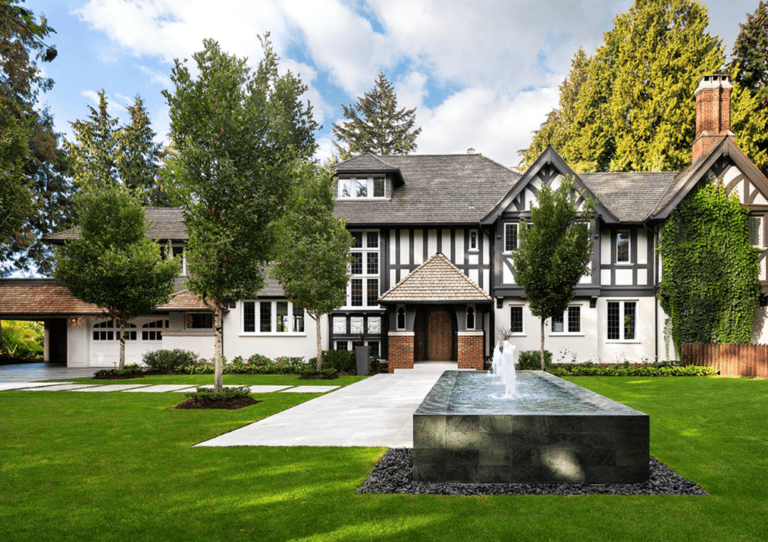 How Much Does a Landscape Design in Vancouver Cost?
It's only normal to want to know what to expect when it comes to costs – especially when it involves so much at stake. If you're dealing with an unreliable landscaping company, they may not only overcharge you, but they could also leave you unsatisfied with the results. To put it simply, landscaping is a big deal. It requires a keen eye for detail, particularly in the design phase.
You want to feel comfortable and confident that your budget is being used efficiently and productively, which reduces the risk of having to go back and redo such a large project. That would mean an increased budget to account for extra materials, time, and possibly multiple redesigns.
A landscape design typically costs $1,500, but this is only a starting point. It all heavily depends on the size of the project, including surface area and types of materials.  For instance, paving a small footpath would be considered a small-scale project, while a large, elaborate water feature would cost more.
Is it Worth it Getting a Landscape Design?
Even if you've received a quote and ready to move forward with a project, it's normal to feel a little apprehensive if it's your first time getting work done. Before anything else, the most obvious reason why landscaping is worth it is for property value.
Revamping your outdoor space instantly brings your property to a whole new level. With the Canadian landscaping industry worth over $13 billion, there's no doubt that landscaping as a whole is widely sought-after. In fact, a brand new landscape can increase your home's property value by up to 28%.
But that's not the only reason why landscaping is worth the time, energy and costs. Here are some of the benefits:
You'll find more enjoyment in winding-down and relaxing in a beautifully landscaped area.
You can incorporate some of your favourite design pieces and flora.
You'll create a more functional space, where you can both entertain others and enjoy more on your own.
A well-landscaped area is easier to maintain, giving you back time and energy.
Create a more sustainable and eco-friendly space that reduces your carbon footprint.
Smart designs and high-quality materials mean longer-lasting structures and garden space.
Landscaping Inspiration & Ideas
If you're not a landscaper by trade, then you can't be expected to develop professional designs that suit your space and its specifications. That's why it's crucial to hire landscapers, but there's a little more to think about before handing over your trust to just anyone. Look for highly qualified landscaping companies who follow best practice and always ensure your vision is their priority.
That's why we take pride in offering full-service landscaping at No Limit Landscaping, with over 20 years of experience in the field. We're not a budget alternative, which means that our high-end services are catered to those who want premium landscaping services.
We take your visions seriously, whilst sharing our expertise with you to offer fresh inspiration and ideas based on our industry experience. No matter what you're looking for, you will always receive detailed concepts and plans. We also offer 3D renderings at an additional cost.
Here's what you can expect when creating your dream landscape with us:
Site Meeting
We'll first sit down together for an in-depth overview of your visions and expectations. We'll share our ideas with you, which you can decide to use if you wish.
Concepts
Next we'll develop concepts based on our collaboration. Each concept is customized to suit your needs, which means we adapt to any style. Whether you're a modern lover or more of a fan of the traditional, we're able to design beautiful concepts based on your needs. We'll provide you with two concepts, and you get to decide on your favourite.
Final Design
You'll finally see your ideas really come to life. These final designs consist of detailed 2D plans, but as mentioned, we can also create 3D renderings if you wish. These plans include the following details:
Key measurements
Elevations
Planting plans and placement
Planting list with descriptions and spacing
Landscape lighting
Chosen materials
Best Landscaping Design in Vancouver
Now you know how much it costs for landscape design Vancouver, you can now get started on all your landscaping dreams. Just remember that the $1,500 mark is just a starting point, and your final landscape design budget will depend on the size of your project. Here at No Limit Landscaping, all our plans are individualized to your specific needs, so you know the end-product will look just as you've always envisioned.